class="update_subtitle">Manu Cazeaux, Crew Chief to Alex Rins, also admitted that their Qualifying performances must improve if they are to challenge for honours
The 2021 season inches ever closer as we ready ourselves for the first Official Test in Qatar in the first week of March in what will be our first look at riders on their new machines, as well as colours. It is a testing session eagerly anticipated by many given the four-month off-season and pundits and fans alike are curious to see what the year ahead has in store.
Coming off their best season in 20 years, Suzuki have set their sights high as they aim for back-to-back Championships for the first time since 1981, as well as Teams' and Contructors' Championships, and it is a target they feel confident in achieving given the pedigree they possess within the garage.
The factory's policy of seeing both riders as equals has reaped its benefits recently, with Team Suzuki Ecstar's Joan Mir the incumbent MotoGP™ World Champion, beating out teammate Alex Rins to glory in a result that proved tough to take according to his Crew Chief, Manu Cazeaux.
"It was hard to see Joan win the title, but Alex accepted it, he evaluated the season and saw episodes like the injury in Jerez and then he had the chances to come back, but we didn't take advantage."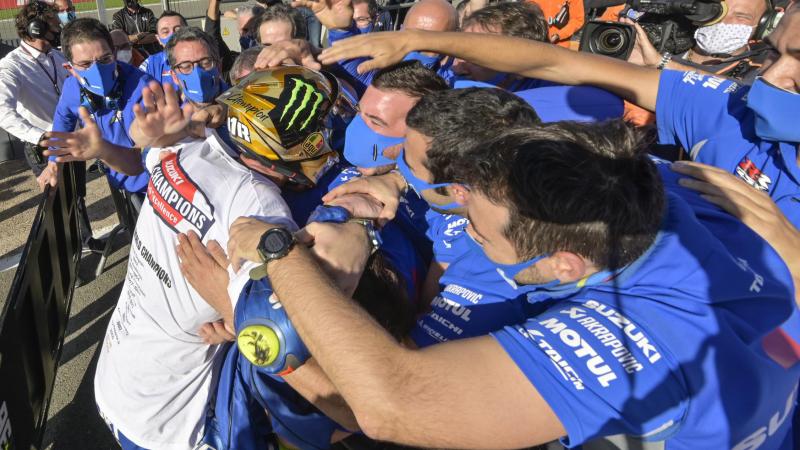 M1R: Every second of Joan Mir's Championship celebrations 15/11/2020
Suzuki's emphasis on an equal rider policy means that there is no number one or number two rider and that improvements must be found from within for Rins and Cazeuax, rather than any external factors, and they are confident of finding them.
"This is something that is in the DNA of the team. It was created like this with the comeback of Suzuki. They always guarantee that if there are new pieces, they are for both riders."
"In the team, we decided to be very transparent, data sharing is 100% clear, reports are shared too. If I find something, even if I want to hide it I cannot. This is a method that guarantees evolution."
"The important thing is to analyse and if the rules of the game are clear, you will not search for excuses outside, you will look inside of yourself and your garage. Even if they are fighting for the Championship against one another, Suzuki keep the rules clear.
"Up to now, there has never been a real fight between our two riders, maybe 2018, Andrea Iannone and Alex were close in the points but not fighting for the Championship. I always hope to keep the rules of the game like this."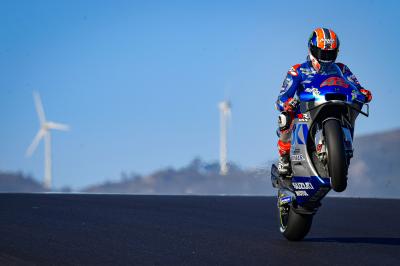 As many noted throughout the 2020 season, Suzuki's performance during the Qualifying sessions proved detrimental to their hopes of winning more races as they simply left themselves too big of a gap to recover from, something which Cazeaux acknowledged himself, but remains confident it is an issue that will be resolved, crediting Rins' resolve when it comes to crunch time on the track.
"He doesn't feel the pressure of the race. He always turns up on Sunday. Our problem last year was starting from a grid position very far back so he couldn't win the race. There was a lot of occasions he had the pace to win or take a podium, but he spent too much time overtaking and he comes 5th or 6th. This is something we know we have to improve."
"I am really confident that we will fix this matter and we will be competitive Qualifying, even last year we showed the signs we were improving. The Teruel GP for example, he found the confidence to attack the Qualifying and he got the front row because he had the speed to do it. We have to build on those Qualifying performances this season."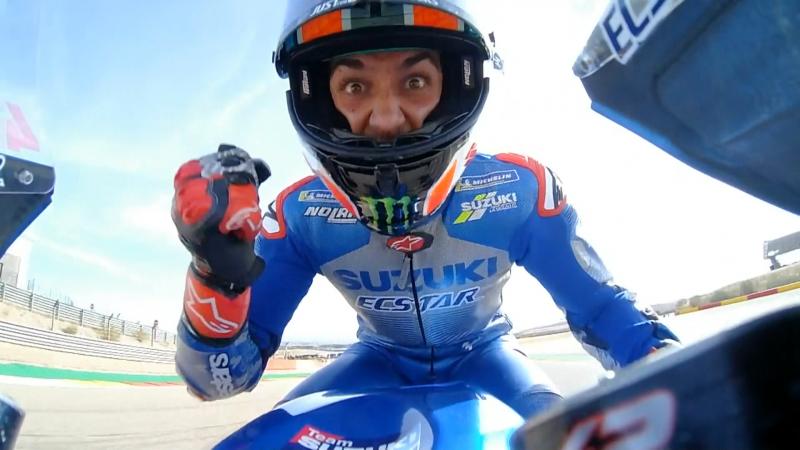 P10 to P1: Alex Rins' incredible Aragon comeback 18/10/2020

Often making other manufacturers green with envy, Suzuki's GSX-RR brought plenty of plaudits for both ts technical ability and simplicity, and Cazeaux recalls when he and his team first recognized the beauty in its design.

"Eventually I went over and asked what they were looking at and they said 'unbelievable, everything is in the right place.' They were amazed. It is a simple bike, but it is technologically pushed to the limit. Usually, the simplest solution gives the best performance."

"Eventually I went over and asked what they were looking at and they said 'unbelievable, everything is in the right place.' They were amazed. It is a simple bike, but it is technologically pushed to the limit. Usually, the simplest solution gives the best performance."

Cazeaux also addressed the idea that we may soon be seeing double the amount of Suzuki machinery on the track soon, and he stated his support for bringing in a satellite team.

"I've always been keen on having a satellite team. My position has always been in favour of having a team. Of course, it is difficult for the factory as its more work but I think the benefits of having a satellite team are bigger than the costs for technical reasons, for sporting reasons and I think, sooner or later, to become a bigger project we will need to have four riders."

Every practice session, qualifying battle and race, exclusive interviews, historic races and so much more fantastic content: this is

VideoPass!




Ads Links by Easy Branches
Play online games for free at games.easybranches.com
Guest Post Services www.easybranches.com/contribute